Laura Ludwig Hamor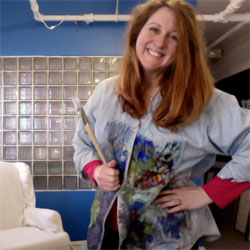 I have always loved to draw, doodle, create characters and write stories!
My illustration work began in a small home office. Now I work in a nearby studio, LLH Designs. This has allowed me to work on larger projects, and more than one project at a time. It also keeps the dog paw prints out of the paint!
My illustration work has brought me into classrooms designing Artist Residency programs and working with students and teachers, you can check out the School Visit and blog page for more information.
I was an Art Consultant for Binney & Smith, (makers of Crayola products). I love working with teachers, museums, and libraries using their Crayola Dream-Makers program. I taught a series, Creativity in the Classroom for BOCES teacher programs. I love creating hands-on workshops integrating art into the core curriculum! Joyful creative energy for big & little people!
I am also writing funny picture books and middle grade novels.
I am a member of the Society of Children's Book Writers and Illustrators, the Graphic Artists Guild, and
John and I have four sons and two dogs.
Our Dogs~
Today, we have Gibbs with Murphy
Gibbs is the small guy on the right! Murphy is a puppy but a lot bigger.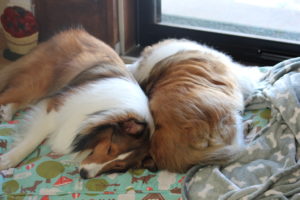 This is Gibbs when he first met Murphy! Boy Murphy grew fast!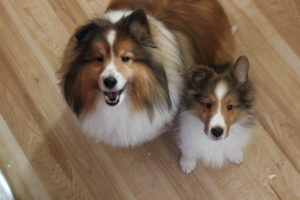 Before Murphy, we had Gibbs and McGee. They were a perfect bonded pair.
But February 29, 2016 when he was just 4 years old, Sweet McGee's cancer took him over the rainbow bridge!
He lives in heaven and our hearts…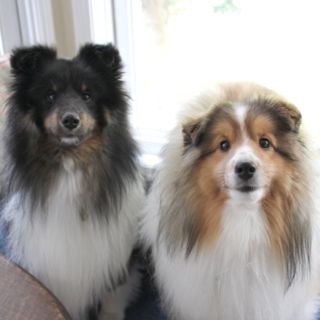 Before Gibbs and McGee was Casey (and Rascal Rabbit – I need to find a bunny picture)
Here is Casey with all of us. We had Casey for almost 17 years!
Casey was so smart that I could lay giant canvas' on the floor to paint them and he never stepped in wet paint!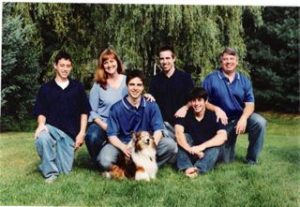 There were other pets over the years that enhance our lives. Goldfish, Beta-fist, Hermit crabs, and African frogs.
Do you have pets that make your life richer?